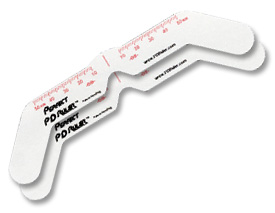 ADS Sports Eyewear created the Perfect PD Ruler™ in response to a need that we saw every day.

Even with perfect technique, it is nearly impossible to hold a standard PD Ruler absolutely still on a patient's face. And since the exact center of the patient's nose was fairly subjective with a traditional PD Ruler, PD measurements were often noted as symmetrical.

The introduction of the Perfect PD Ruler resulted in an immediate drop in symmetrical PD measurements. The bridge in the center of the ruler clearly defines the center of the face, and holds the ruler perfectly steady while each measurement is taken.

The Perfect PD Ruler™ was also designed with rounded corners to be safer near patients' eyes. Having sharp corners near the eyes of restless children or indifferent adults is an unnecessary risk that we help you eliminate.

ADS Sports Eyewear is the designer, manufacturer, and distributor of the Perfect PD Ruler™. The rulers are available with volume discounts, and with your own custom design or logo on the ruler. Competitive volume pricing has made the Perfect PD Ruler™ a popular promotional item.